SEOTOASTER v 1.8.1 combines a powerful and intuitive content management system, fully integrated shopping cart software, a complex sale/b2b e-commerce quoting engine,as well as automated organic search engine marketing execution that requires less than 60 seconds of configuration.
SEOTOASTER integrates the Paypal payment system for credit card processing and can also configure any number of desired additional payment gateways. Version 1.8 of the open source CMS also offers an out-of-the-box integrated quote management engine that is ideal for e-commerce merchants who require offline interaction to close sales. B2C or B2B merchants like car dealers, equipment vendors, or those who sell luxury items or high-end appliances will appreciate its elegant and powerful quoting engine.
The quoting engine requires a single click configuration and, coupled with the shopping cart, handles the intake of quote requests, status displays, and flexible processing. From creation and emailing of PDF quotes to the prospective clients with an integrated online payment button, to addition of products, or even quote creation from scratch over the phone by internal staffers for instance.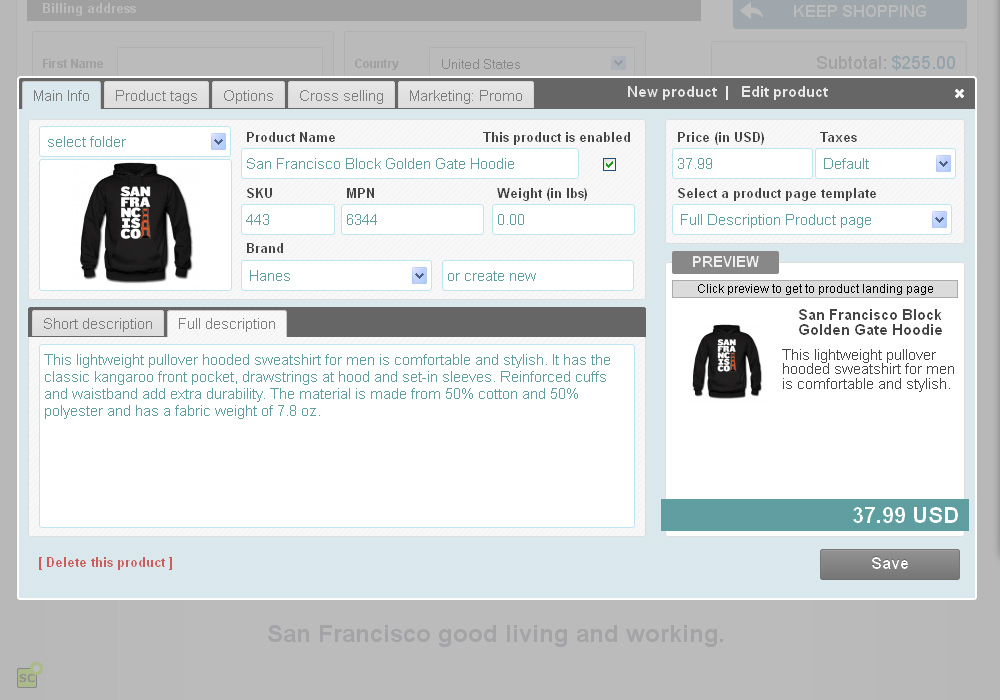 With SEOTOASTER v1.8 Ecommerce solution edition, out-of the-box, you can;




Entirely control the look & feel of your store


Create product lists and merchandise display options with unlimited flexibility


Easy single-screen checkout page


Intuitive user interface



Easy tax & shipping configuration, including USPS, free shipping & flat fee shipping based on order amount or weight


Builds products using micro-format for great SEO performance


Builds XML product feeds for shopping comparison search engines, including Google Products


Checkout options include Paypal and/or credit card and/or quote request


Pre-configured with Paypal Pro gateway & Pay with Paypal button
Merchandising widgets including scheduled on-sales pricing, and gifting


Merchant & customer notification for sales


Included quote engine for complex sales process


Quote request & prospective client notification


Quote adjustments, auto-emailing, auto PDF generation


Simple quote management



Automates 301 redirection


Automates deep-links creation


Automates on-page SEO alignment


Automates media tagging


Automates link sculpting


Automates link silo building via a point & click interface


Automates and simplifies the ongoing execution of many more arcane SEO techniques while providing an intuitive interface for users.


Users can further enhance SEOTOASTER's existing feature set with an optional SEO Samba subscription, which provides the ability to market from a central interface for multiple websites hosted anywhere in the world. SEO Samba's Internet marketing softwareautomatically executes all on-site SEO techniques and provides access to automated off-site link building tactics; distributes your information to web, RSS directories, and specialized search engines such as Google News; distributes unlimited optimized press releases automatically; and more, for just $99 per month.

SEOTOASTER can be downloaded free of charge here, and is also available as a turnkey e-commerce website builder hosted service, with nightly backup, automated software revision and support for $25/month.